Shandong Shida Si Biological Industry Co., Ltd. to donate 2.71 million yuan to Guizhou Province, medical equipment
May 25, Shandong Shida Si Biological Industry Co., Ltd. in Guizhou Province, the third charity project promotion, to the Guizhou Charity Federation donated 271 million yuan of medical equipment, has been widely acclaimed inside and outside the industry.
It is understood that the third charity project in Guizhou Province to promote the "charity to help boost the poor and economic difficulties" as the theme, held in Guiyang City, by the Guizhou Provincial Civil Affairs Department, the provincial organs of the Committee, the provincial SASAC, the provincial Federation of Industry and Commerce , Guizhou Province Charity Federation contractors, has been widely supported by the community, were declared
More than 100 charitable projects, covering the field of helping old, helping students, helping doctors, poverty alleviation, poverty, disaster relief, culture and other fields.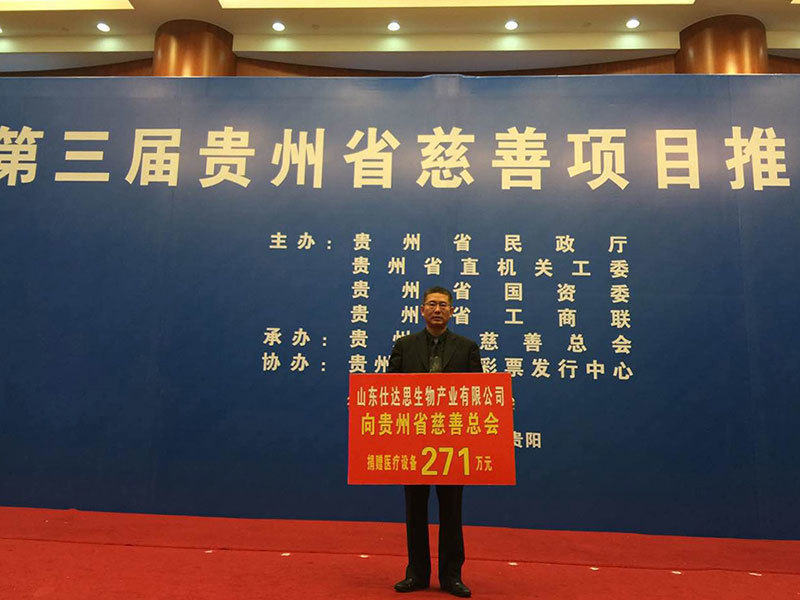 As a charitable cause of the positive and enthusiastic participants, Shandong Staff Service Biological Industry Co., Ltd. in the promotion to the Guizhou Charity Federation and the local medical institutions donated the reproductive tract micro-ecological professional testing equipment, the value of 271 million yuan The These devices will be used mainly for the local grass-roots hospitals, community health care, reproductive health services to provide high-quality reproductive tract micro-ecological automatic detection and analysis of the less developed areas to establish female reproductive tract infection and clinical research system to improve mixed infection , Recurrent infection and other difficult to cure the reproductive tract inflammation diagnosis of the detection speed and the accuracy of the results, to promote the local grassroots medical institutions to upgrade the hardware has a positive role in promoting.
Shandong Shida Si biological industry company has been focused on the reproductive field of micro-ecological research, but also very concerned about the poor and backward areas of medical and health development, has been initially in the country to build a macro reproductive line micro-ecological detection network. Based on the Internet model of reproductive tract micro-ecological detection, counseling and consultation system to promote, so that in remote areas in less developed areas of the local patients can be achieved locally from all over the country's reproductive field of micro-ecological research Professional quality expert consultation advice, and the well-known experts in the country online communication, consultation and treatment, early detection and accurate judgments of various reproductive tract diseases, take the initiative to carry out their own health management, better promote good health and improve physical fitness.